Site Articles
Articles that I've written on a variety of topics. Will contain longer-form and more in depth content. More will be added soon!
Iron is not usually associated with having a "rainbow" coloration. Rust, for example, is orange, and the metal itself is a shiny grey. Why, then, can iron films seem to form every color in the rainbow?
The answer is that iron films exhibit something called structural coloration. Strucural colors are colors that result from light interacting with microscopically small surface structures on an object. This is different from the green, red, and yellow that we see in most leafy plants, or the colorful dyes that we use to color clothing. These colors are derived from pigments, molecules that absorb and reflect different wavelengths.
Examples of structural color are actually all around you! The vibrant blue color of blue jay feathers is one example. Blue is a famously rare pigment in nature and is expensive to produce. Instead of investing valuable time and energy in creating a blue pigment in its feathers, blue jays have evolved to form nanostructures in their feathers that warp light in order to produce a blue structural color. Some other examples of structural color can be seen in peacocks, grackles, butterflies, seashells (nacre), some insects, soap bubbles, and gasoline!
Iron films, soap bubbles, and gasoline actually all get their coloration from a form of structural color called thin film interference. Iron films are a type of thin film, a term which refers to a layer of material that is only nanometers in thickness. These thin layers are around 2000 times thinner than a human hair, and can be even thinner!
At a scale this small, thin films are actually capable of messing with light. When a ray of sunlight hits a film, it both reflects off the surface of the film and refracts into the film. The ray of light which refracted into the film then reflects again, this time off the underside of the film. It then travels back up, hits the top of the film, and refracts back into the air.
However, because the film is so thin, this refracted ray ends up being close enough to the initial reflected ray to cause the rays to interfere with each other. Depending on the speed of the rays and the distance they have to travel in the film (e.g. the thickness of the film) this interference results in the human eye seeing a vibrant color on the thin film spectrum.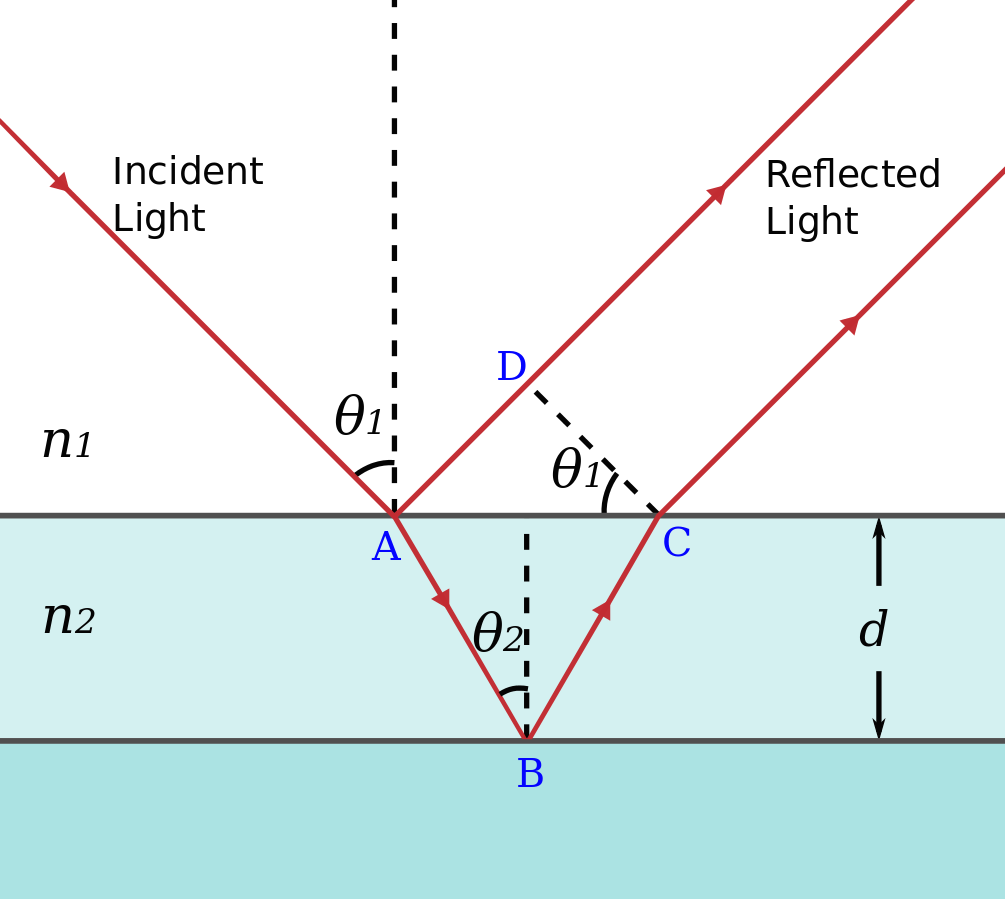 This image was created by Nicoguaro on Wikipedia.
So why do we see a plethora of rainbow-like colors when we see iron films, as opposed to just one? The answer is that iron films vary in thickness. These changes in thickness in a film are so microscopically small that human eyes cannot percieve them - it's even hard to see under a microscope! However, small alterations in the thickness of a thin film results in the human eye perciving a wildly different color. That is why we see patches, patterns, and spots of rainbow-like color across iron films.
Is thin film interference why iron films and gasoline spills look so similar? The answer is yes! Iron films are a type of solid precipitant containing iron-rich minerals and organic matter that form on water surfaces. In contrast, gasoline is a clear liquid made up of hydrocarbon molecules. Despite being composed of very difference substances, both gasoline and iron films get their coloration from thin film interference instead of any type of pigmentation. Their composition doesn't play a significant role in the color that the human eye sees - instead, the thickness is what controls the colors. If you study gasoline spills and iron films very closely, you can actually notice a lot of differences between the two in terms of patterning, what colors are common to see, and how they form - the only similarity is that they form thin films on water surfaces.

A thin film interference spectrum, screenshotted from a demonstration by Peter Canfield.
Are iron films "rainbow"? The answer is, surprisingly, technically no! Iron films exhibit colors on the thin film spectrum, which includes many but not all of the colors of spectral light. Notably, the thin film spectrum is lacking colors like red. However, it includes colors such as bright pink which is not a part of the rainbow!
Another difference between the thin film spectrum and a rainbow is the order in which the hues proceed. Nearly everyone is familiar with ROYGBIV - red, orange, yellow, green, blue, indigo, and violet. Most are likely less familiar with SGMVBYPBGYPGPGP... or silver, gold, magenta, violet, blue, yellow, etc... you get the idea.
I am a biogeochemist, and not a physicist, so the optics behind thin film interference, diffraction, and colors isn't my wheelhouse. I encourage you to research the topic more if you are interested!